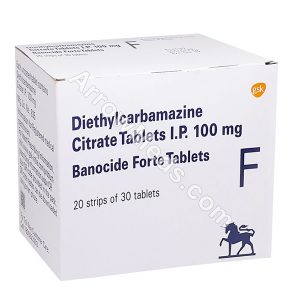 Banocide Forte 100mg (Diethylcarbamazine)
| | |
| --- | --- |
| Active Ingredient (Generic Name): | Diethylcarbamazine |
| Indication: | Worm infections, Filariasis |
| Manufacturer: | GlaxoSmithKline Pharmaceuticals Ltd |
| Packaging: | 20 tablets in 1 strip & 30 tablets in 1 strip |
| Strength: | 100mg |
| Delivery Time: | 6 To 15 days |
| 10% OFF: | Use Code AM10 @ Checkout page |
Banocide Forte 100mg (Diethylcarbamazine) - 100mg

100mg
Price
Price/unit
Quantity
Add To Cart
150 Tablet/s
$35
$0.23 /Piece
300 Tablet/s
$70
$0.23 /Piece
450 Tablet/s
$99
$0.22 /Piece
Medically Reviewed by
Dr. Olivia Nelson
Description
Banocide Forte 100mg online order
Banocide Forte is an anti-parasitic and anti-helminthic drug used for curing infections caused due to various worms like roundworms and whipworms.
It is an approved medicine but a non-prescription drug so it can be bought at a cheap price from online medicine portals and retail pharmacy shops. If you want to buy Banocide Forte 100mg from online websites then you should prefer Arrowmeds.com.
Arrowmeds.com is a highly renowned and trusted medicine portal that sells the best quality medicines. By buying Banocide Forte 100mg from Arrowmeds you can be 100% sure of the composition and the dosage. You can also get attractive discounts on all your orders from Arrowmeds.com.
What is Banocide Forte 100mg?
Banocide Forte 100mg oral medication is used for the treatment of various infections and side effects caused due to worms. It is used for preventing infections such as loiasis, Bancroft's filariasis, river blindness, and eosinophilic lung along with various other infections.
The various side effects due to infections caused by worms include breathing disorders, pain in the joints, and nerve-related disorders. All these side effects can be prevented and treated using this tablet.
The main active ingredient of this medicine is Diethylcarbamazine citrate which is highly effective in treating the various infections caused due to worms. This one comes under the anti-helminthic category of drugs.
It is manufactured in India by Glaxo SmithKline Pharmaceuticals Ltd. It is a non-prescription drug meaning that Banocide Forte can be purchased from the local medicine store or online medicine portals without a doctor's prescription.
What is the use of Banocide Forte 100mg?
Banocide Forte is an anti-infectious drug that is used for preventing and curing the various infections caused due to roundworms and whipworms. It is generally used to treat the following conditions-
Loiasis
Eosinophilic lung
Bancroft's filariasis
Infections caused due to worm
River blindness
Pulmonary eosinophilia
Lymphatic Filariasis
Toxocariasis
What is the Dosage of Banocide Forte 100mg?
If any adult patient is suffering from Loiasis, river blindness, or Bancroft's Filariasis then the recommended dosage is 2-3 mg taken 3 times during the day. If the patient is suffering from Eosinophilic lung disease then he might be prescribed a dosage of up to 6mg to be taken three times during the day. The dosage should be continued for at least one week to see the changes.
It is recommended that you consult a general physician before using this tablet as Banocide Forte can also have some side effects.
Also determining the right dosage for a patient depends on a lot of individual factors like age, health, presence of other diseases, which type of infections or disorder the patient is suffering from, use of other medicines if any, and being allergic to the main ingredient Diethylcarbamazine citrate.
What happens if overdosed on Banocide Forte 100mg?
The overdose of medicine can cause various side effects depending on the patient. Read out the side effects section to get an idea. In case the side effects are extreme inform your doctor immediately.
What Precautions need to be taken?
The use of Banocide Forte 100mg Tablet is not recommended for pregnant women as it may cause severe damage to the fetus. Lactating mothers should also avoid this medicine as it may pass on to their infant through breast milk.
Patients are urged not to do any activity that requires concentration like driving cars because Banocide Forte is known to cause drowsiness. Patients should also not consume any alcohol and drugs because they can interact with them.
This medicine is also not recommended for persons suffering from hypersensitivity.
Banocide Forte 100mg side effects
Side effects of this drug can vary from mild to severe. Make sure to consult the doctor before using the Banocide Forte 100mg tablet. Here are the side effects of this drug-
Loss of appetite
Dizziness
Feeling drowsy
Nausea
Vomiting
Feeling weak
Headache
Pain in the joints
Some allergic reactions can occur due to the intake of this drug. The most common allergic reactions include-
Rashes
A sudden drop in blood pressure
Difficulty in breathing
Itching and swelling of certain regions
Increase in size of the lymph nodes
Generally, the side effects will disappear as the body copes with the tablet. But if the side effects are persistent and keep happening every time you take the drug then you should consult a doctor.
How Does Banocide Forte 100mg work?
Banocide Forte 100mg is an anti-parasitic drug. The drug helps to cure allergic conditions by sensitizing the microfilaria to phagocytosis and helps the leucocytes present in the blood to attack and destroy these parasites.
Banocide Forte works by preventing the parasitic worms to absorb glucose present in the human intestines and thus they become weak and eventually die. The active ingredient Diethylcarbamazine citrate helps in preventing parasites from inhibiting the intake of glucose. This is the basic way in which Banocide Forte prevents and cures every other infection.
How to take Banocide Forte 100mg?
As it is an oral medicine you can take the Banocide Forte tablets with the help of water. Do not crush or break the tablets and swallow them with water. You can take the tablets on an empty stomach or after having a meal. Just make sure to follow the timings correctly as this drug is only effective when taken regularly.
It is not recommended that you take the medicine with alcohol as Diethylcarbamazine citrate may interact with the alcohol and cause side effects. If you are addicted to alcohol and other drugs then consult a doctor before taking Banocide Forte.
Banocide Forte 100mg reviews
Banocide Forte is a highly effective medicine and also very cheap. So it is readily purchased by patients suffering from infections due to worms.
If your doctor has recommended this drug it should be beneficial for you if used regularly in the correct dosage.
Banocide Forte 100mg price
The price of Banocide Forte 100mg tablets may vary on the different online portals. The price of Banocide tablets is in the range of $15 for 60 tablets.