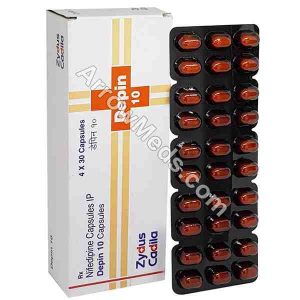 Depin 10 mg (Nifedipine)
| | |
| --- | --- |
| Active Ingredient (Generic Name): | Nifedipine |
| Indication: | High blood pressure, Chest pain (Angina) |
| Manufacturer: | Zydus Cadila Pharma |
| Packaging: | 50 capsules in 1 strip, 30 capsules in 1 strip, 10 Tablet pr in 1 strip |
| Strength: | 10mg |
| Delivery Time: | 6 To 15 days |
| 10% OFF: | Use Code AM10 @ Checkout page |
Depin 10 mg (Nifedipine) - 10 mg

10 mg
Price
Quantity
Add To Cart
60 Capsules
$30
90 Capsule/s
$60
180 Capsule/s
$110
Description
Depin 10 mg is a prescription drug that has an active ingredient name Nifedipine which is a class of channel blockers that is use to treat certain conditions like high blood pressure, angina, Raynaud's phenomenon, premature labor, and many more which is patented in 1967 and got approval for human use 1981 which is in the list of WHO's essential medicines, it is available as a generic medicine since 2020 and one of the most prescribed medicines in the USA.
What is Depin 10 mg?
Depin 10mg is a calcium channel blocker that contains 10 micrograms of Nifedipine and that prevents high blood pressure and decreases the stress applied on the heart eventually improving the overall health of the heart and removing the risk of hypertension and reducing the chances of a heart attack which is one the most death occurred ng in this time due to stressful and anxious lifestyle. Depin 10mg is manufactured and sold by a major Indian Pharma company Zydus Cadila Pharma.
Uses of Depin 10 mg
A most common use of Depin 10 is to treat high blood pressure by relaxing a muscle in the blood vessel which makes it easier for blood to flow and reduces the chance of having symptoms of hypertension, Depin capsules are useful in treating a condition called angina which includes a chest pain that happens when the heart doesn't get enough oxygen.
Depin 10mg is helpful in curing raynaud's phenomenon in which a blood vessel in the fingers and toes becomes narrow which makes it harder for blood to flow which eventually leads to pain, numbness, and tingling sensation. Depin 10 makes blood vessels wide and helps blood to flow swiftly. In addition to these Depin 10mg is very beneficial in treating premature extortion as well and sometimes can be useful for migraine too.
Benefits of Depin 10 mg
There are several benefits that Depin 10 mg provides including curing certain blood pressure related problem that can generate serious problem like heart attack and paralysis such as high blood pressure, angina that cause chest pain, Raynaud's phenomenon that is responsible for numbness and tingling sensation in fingers.
In some cases, it is useful to prevent premature labor in a pregnant woman.
Depin 10 mg has a rapid onset of action that starts working quickly which is necessary in a serious case of heart attack, apart from this Depin 10 mg generate lesser side effect than other medications used to treat hypertension.
How does Depin 10 mg work?
When too much calcium ions capture the part of smooth muscle cells in the blood vessels and due to their movements, they act to contract a smooth muscle in the blood vessels, Depin 10 mg by controlling the influx of these calcium ions stops a contraction of smooth muscle in the blood vessel, that eventually by relaxing a blood vessel improve blood flow and let blood move smoothly to reduce blood pressure.
Buy Depin 10 mg in US and UK
Depin 10 mg is widely available in the us and UK as well,
Once you have a prescription from a doctor you can buy Depin 10 mg from a local pharmacy approved by the government and you can check an online licensed pharmacy platform if you want to buy Depin 10 mg online from Arrowmeds.com.
Dosage
A dosage of Depin 10 mg depends upon an individual's medical condition, the severity of the symptoms, and how the body is responding to medicine.
The average initial dose of Depin 10 for hypertension is 30 mg once a day which can be increase to 60 mg once per day or 90 mg once a day in a serious scenario. For angina average initial dose is 10 to 20 mg three times a day that can be increase to a maximum of 120 mg per day depending upon the individual's response to medicine, For Raynaud's phenomenon the usual starting dose is 10 mg three times in a day that can go up to maximum 60 mg per day. For premature labor average dose is 10 per 20-30 minutes four times a day.
However, it is important to note that this ratio of doses may vary from patient to patient.
Side Effects
Headache
Nausea
Swelling of the ankles and legs
Dizziness
Stomach pain
Indigestion, gas
Tiredness
Skin redness
Precautions
Depin 10 mg should not be crush or broken before taking it.
Depin 10 mg should be swallow with a glass of water and should be take at the same time every day.
Take as prescribed and suggested by your healthcare provider and strictly do not alter doses.do not skip the dosage on your own and be consistent in taking it.
Avoid a certain fruit and fruit juice like grapes and its juice as they can increase a level of nifedipine that can generate a side effect.
Make sure to tell your doctor about all medicines you are taking because Depin 10mg can interact with other drugs to treat a disease like HIV, fungal infection, and some antibiotics that increase the chance of having side effects.
Do not forget to monitor your blood pressure as a higher dose than required of Depin 10 mg can lower your blood pressure which can be serious and life-threatening sometimes.
Frequently Asked Questions
Are there any other uses of Depin 10 mg?
Sometimes Depin 10 mg is use to treat kidney stones and a special type of print metal angina.
Can I get addicted to Depin 10 mg?
There is no such evidence that you can get addict to Depin 10 mg.
Can I take a Depin 10 mg with b12 supplements?
Yes, you can take Depin 10 mg with B12 supplements but it is always a good idea to talk to your doctor about it.
How long will I have to take it?
It depends upon the intensity of your problem, in some cases, it needs to be take on a regular basis to keep blood pressure under control, and always follow the instructions of your doctor.