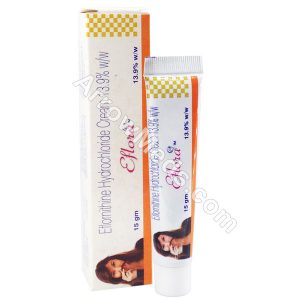 Eflora Cream (Eflornithine Hydrochloride)
| | |
| --- | --- |
| Active Ingredient (Generic Name): | Eflornithine Hydrochloride |
| Indication: | Facial hirsutism (Excessive hair growth on face) |
| Manufacturer: | Sun Pharmaceutical Industries Ltd |
| Packaging: | 15 gm creams in 1 tube |
| Delivery Time: | 6 To 15 days |
| 10% OFF: | Use Code AM10 @ Checkout page |
Eflora Cream (Eflornithine Hydrochloride) - 15g

15g
Price
Quantity
Add To Cart
1 Cream
$24
3 Cream/s
$70
6 Cream/s
$133
Description
What is Eflora Cream?
Eflora Cream is having Eflornithine as its main ingredient which is widely used and prescribed by the doctor for the treatment of facial hirsutism which helps in preventing excessive facial hair growth in women.
Eflora Cream is an FDA-approved medicine which is why it is considered one of the safest skin care creams available in the market and also it has been manufactured by a leading pharmaceutical company called sun pharmaceutical industries ltd.
Due to the presence of its active ingredient, it helps in slowing down the further growth of unwanted hair from certain parts of your skin including under the chin and around the lips.
Uses of Eflora Cream
Eflora Cream is widely used against the treatment of extra or unwanted facial hair growth in women above the age of 12 years.
One thing to be kept in mind is that it helps in preventing unwanted hair growth but does not know for permanently removing facial hair.
Along with that, this has also been used against the treatment of African sleeping sickness is a disease that is mainly caused by parasite infection.
Dosage
The dose and duration of applying Cream should largely depend upon the recommendation and prescription given by your gynecologist or health care provider.
Therefore it is very important that you need to buy Eflora Cream according to your doctor's recommendation to get rid of unwanted facial hair.
You should follow a strict routine for applying this cream to the infected area as per the direction given on the label of the medicine suggested by your doctor.
Precautions
If you want to get rid of unwanted facial hair and desire to buy Cream then before starting your medication you need to follow certain precautions that are as follows-
Allery
If you are allergic to Eflornithine or any other active ingredients present in Eflora then it is not recommended to use this cream by such patients otherwise they have to suffer from negative effects.
Pregnancy
If it is not very necessary then most pharmacies do not recommend using cream bad are pregnant women because there is a risk associated with this medicine that shows negative effects on the growing baby.
However, it is suggested to talk to your doctor to discover the risk and benefits.
Breastfeeding
Unless necessary it has not been recommended to use Eflora by a breastfeeding mother because Eflora cream reviews show that it shows undesirable effects on the breastfed baby.
External use
This cream is suggested to be used for external purposes only and take proper care to not make it in contact with eyes, nose, ears, mouth, etc.
Benefits of Eflora cream
One of the most important benefits one can get by using this cream is to get treated for facial hirsutism, a medical condition where a woman has to suffer from unwanted facial hair growth.
Due to the problem of hirsutism excessive growth of hair arises due to Excess male hormones.
But Eflora cream works its best by blocking the growth of certain enzymes that is responsible for excessive hair growth in women's face.
Buying the right uses of this medicine helps in improving the appearance and social life of a woman by making her look more confident.
Side Effects
Eflora Cream Side Effects are temporary because it is an FDA-approved medicine.
It is considered one of the safest medications available in the market to treat unwanted facial growth in women's faces.
However, it also causes some mild Side Effects which will disappear after certain usage including
Acne
Itching
Hair loss
Hair follicle inflammation
and many more.
Buy Eflora cream in US and UK
Eflora cream in the USA is a very popular cream and if you want to buy then you must consider the Arrowmeds website for this.
One of the main reasons to prove this website is that Eflora cream price is very cheap here and also there are various positive reviews present regarding the cream.
Frequently Asked Questions:
What happens if you use too much Eflora cream?
Eflora cream is only suggested to be applied in genital amounts only and if you have found out that you have applied an extra amount of this cream then in such a situation you need to consult your nearby doctor as soon as possible to seek medical emergency treatment.
What if you forget to use cream?
You must follow a strict schedule for applying this cream. In case you forgot to apply it at the scheduled time then it is suggested to apply the missed dose as soon as you discover about it.
However, it is also very important that you should not double your doors to compensate for your missed dose.
How does Eflora cream work?
Flora is having Eflornithine as its active ingredient which helps in stopping the activity of an enzyme that causes excessive facial hair growth in women this enzyme known as ornithine decarboxylase is the main cause of excessive production of facial hair.
Eflora cream starts working by blocking such enzymes and treating you with excessive facial hair growth.
How to use Eflora cream?
Eflora Cream is suggested for external use only. You can use this cream as per the duration and dose recommended by your pharmacist or doctor.
Before applying this dream you need to check the direction to use mentioned on the label of the cream.
You need to clean the area before applying this cream and dry the affected area before its application.
Wash your hands before to safeguard yourself from any infection.
What are the common drug interactions?
Like any other medicine Eflora cream also interact differently as per your medical health and the current medicines you are taking.
Therefore discovered drug interaction it is very important to tell your doctor about your current health condition and medication so that he will be able to suggest the right dosage and strength for taking cream.
Check Here For More Products:
Flutivate Cream | Ornigreat Gel | Alokem Gel